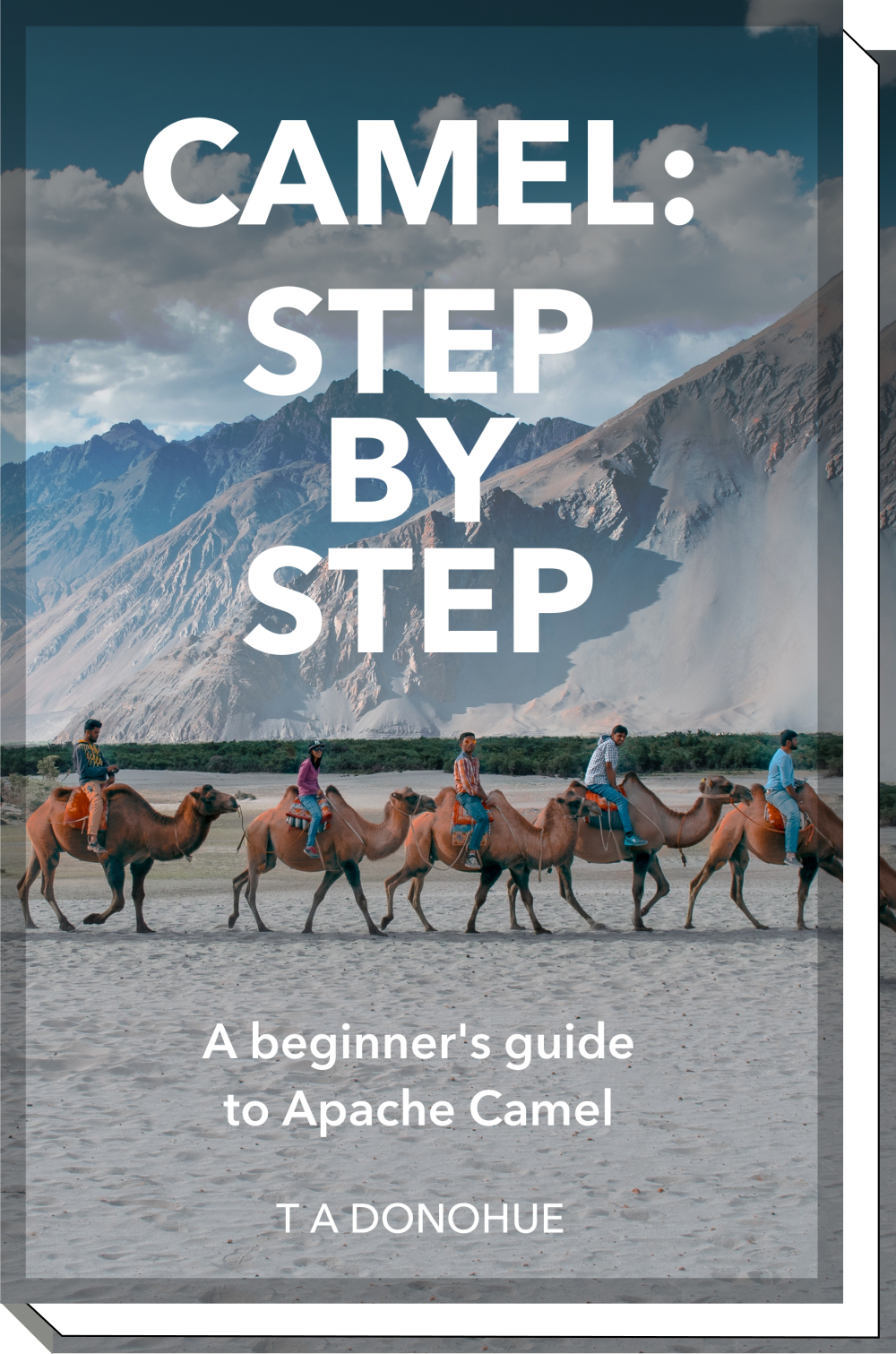 Want to get started with Apache Camel?
You've found Apache Camel, the awesome integration framework for Java. You're keen to get started, but you're not sure how.
You have questions, like:
How do you create applications with Camel?
How do you use Camel to transform data?
How do you work with web services?
Where should you run your Camel apps?
You'll find the answers to all these questions in my book, Camel Step-by-Step.
It's the Apache Camel book for beginners. It will help you master the basics of Camel and start developing Camel applications in no time.
The Camel book for beginners like you
If you're new to Apache Camel, this book is for you.
It's written in the same style as my blog posts - simple, no jargon and written in plain English.
This book:
takes you through the basics
answers even your most basic questions about Camel
includes detailed screenshots for you to follow
gets you building a real-world Camel project
explains how to do the most common tasks in Camel
It's enhanced with screenshots, illustrations and sample code for you to try. 🛠
Get hands-on with Camel
Camel Step-by-Step is the ebook for the beginner to Apache Camel.
You'll learn about Camel, what it can do and how to get started. You'll be using the same tools that thousands of other developers use, like Maven, Eclipse and IntelliJ.
You'll learn how to write tests for your Camel apps, and what a typical test should look like.
By the end of the first section, you'll have already created your first Camel app.
Really understand how Apache Camel works.
Get hands-on with step-by-step examples.
Learn time-saving techniques
Go further with 6 real applications
Download a free sample chapter
Download the first chapter for free: get an introduction to Camel, and learn how to create and run your first Camel app.
instantly usable
and free of unnecessary technical jargon.

Rod, customer
What's inside the book?
The book starts by introducing the basics of Apache Camel. You'll learn what Camel is, and what it does. You'll learn the Camel message model and you'll create your first Camel application.
The second part of the book focuses on Camel techniques: the things that you'll be doing most often in your Camel routes. You'll learn to process and transform messages, and interact with web services.
The final section of the book is a reference section that you can refer to when developing your Camel-powered apps.
Table of Contents
Camel Basics

Introducing Apache Camel

Getting on the Camel

What does a Route look like?

Using components

Using Maven

Messages in Camel

Your first Camel project

Camel Techniques

Routing messages

Joining routes together

Modifying messages

Splitting messages

Writing logs

Scheduling routes

Transforming messages

Calling Java code

Working with REST services

Working with SOAP services

Dynamic configuration

Developer Tools

Testing in Camel

Fuse Tools for Eclipse

IntelliJ IDEA Camel Plugin

Spring Boot

Monitoring with Hawtio

Using Maven with Camel

Other ways to deploy Camel

Reference

Maven archetypes

Unit test template

Expression types

Where to get help (when you're stuck)

Frequently asked questions

Glossary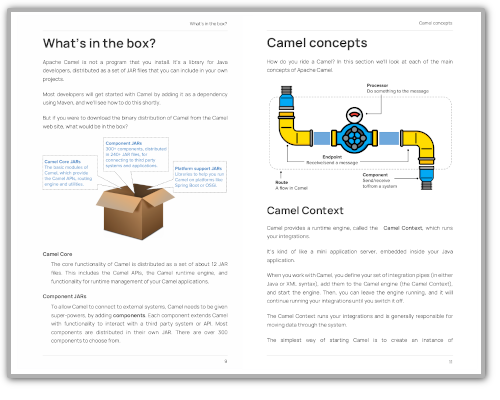 Stop randomly trying things. And start understanding how Camel works.
Structured into basics, techniques and developer tools, the book shows you the different aspects of Camel, so that you can develop apps in the right way. Instead of getting frustrated.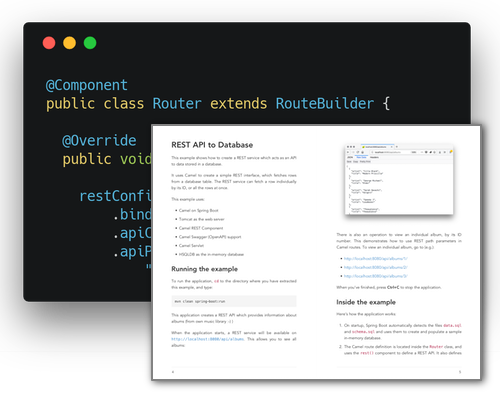 Learn from example applications.
Learn how to build Camel applications by example. The book includes 6 sample Camel applications and an accompanying guide, which demonstrate how to use Camel in the real world.
Questions?
What if I'm not satisfied?
I hope that you're going to love the book. But, if for some reason you're not satisfied, you can ask for a refund at any time. If you don't find the book useful, then I don't want you to have to pay for it. It's all win for you.
What if I have more questions?
You can email me via this contact form, or hit me up on Twitter (my DMs are open) and I'll be happy to answer any of your questions.