Start developing integration solutions with Apache Camel today
You've found Apache Camel, the awesome integration framework for Java. You really want to get started and develop that integration project, but you're not sure how to move forward.
You've got questions you want answered, like:
Is Apache Camel the right choice for my project?

How do I create applications with Apache Camel?

What is a route, anyway?

How do I use Camel to connect to APIs?
The answers to these questions and more are in Apache Camel Step-by-Step.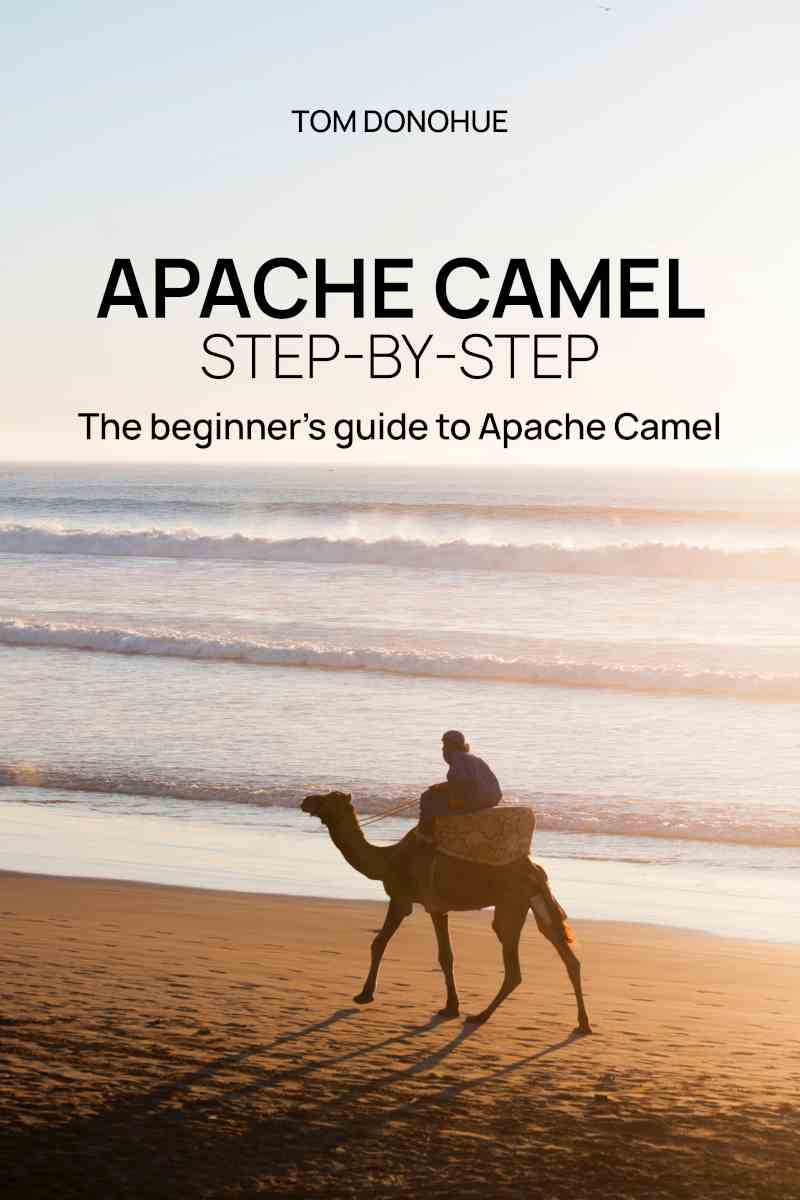 It's the Apache Camel book for beginners and it will help you master the basics of Camel and start developing Camel applications in no time.
Written for beginners like you
If you're new to Apache Camel, then you'll know it seems like a strange world. Routes? Components? Beans? What do they all mean?
This book explains the basics from the start, so you understand how all of these pieces fit together in the Camel puzzle.
You can try to learn by hacking away at solutions, but you will only make real progress once you understand the Camel approach to integration development, and this book teaches you just that.
The book is written in the same style as my blog posts: simple, no jargon and in plain English. It will:
take you through the basics and answer your beginner questions

explain how to do the most common tasks in Camel

help you visualise with screenshots and illustrations

understand real use cases with sample applications
It's enhanced with screenshots, illustrations and sample code for you to try. 🛠
Get hands-on with Apache Camel
Apache Camel Step-by-Step is the ebook for the beginner to Apache Camel.
You'll learn about Camel, what it can do and how to get started. You'll learn how to write tests for your Camel apps, and what a typical test should look like. By the end of the first section, you will create your first Camel app.
When you get the book you will:
Really understand how Apache Camel works.

Get hands-on with step-by-step examples.

Learn time-saving techniques

Go further with 6 real applications
Download a free sample chapter
Download the first chapter for free. It's over 30 pages, packed with essential info for Camel beginners. So get your free introduction to Apache Camel, and learn how to create and run your first Apache Camel app.
If you like the free first chapter, you will love the full edition.
Try the first chapter for free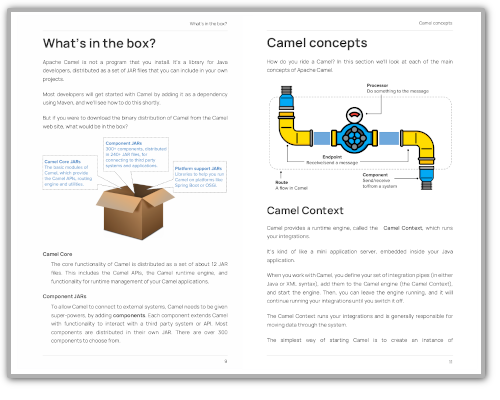 Stop randomly trying things;
start understanding how Camel works
Structured into basics, techniques and developer tools, the book shows you the different aspects of Camel, so that you can develop apps in the right way, instead of getting frustrated.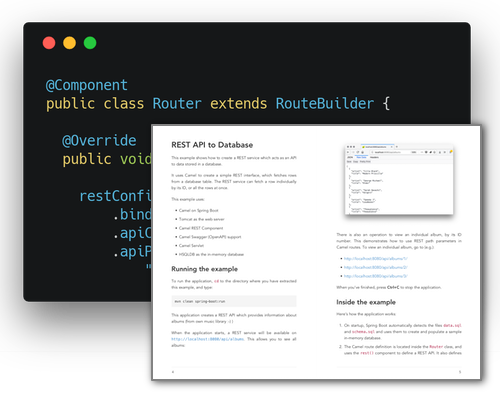 Learn with videos and example applications
You will learn how to build Camel applications by example. The book includes 6 sample Camel applications and an accompanying PDF guide, which together demonstrate how to use Camel's features in real applications.
See how the applications have been built, inspect the source code, and use the accompanying PDF guide, which describes how they work. You can use these applications as quickstarts for your next Camel application.
What's inside the book?
The book starts by introducing the basics of Apache Camel. You'll learn what Camel is, and what it does. You'll learn the Camel message model and you'll create your first Camel application.
The second part of the book focuses on Camel techniques: the things that you'll be doing most often in your Camel routes. You'll learn to process and transform messages, and interact with web services.
The third part focuses on developer experience with Camel. This is where you'll learn how to write unit tests, manage and monitor Camel and learn about timesaving IDE tooling.
The final section of the book gives you a reference section that you can refer to when developing your Camel-powered apps.
Table of Contents
Camel basics
Introducing Apache Camel
What's in the box?
Camel concepts
Writing your routes
Messages in Camel
Components and endpoints
Your first Camel project
Camel Techniques
Routing messages
Joining routes together
Modifying messages
Splitting messages
Writing logs
Scheduling routes
Transforming messages
Calling Java code
Dynamic configuration
Integrating with applications
Working with REST services
Working with SOAP services
Developing with Camel
Testing in Camel
Developer tooling (for Eclipse, IntelliJ and VS Code)
Running Camel
Standalone Camel
Monitoring with Hawtio
Where to get help (when you're stuck)
Reference
Maven archetypes
Expression types
Unit test template
Spring Boot Java DSL template
Spring Boot XML template
Frequently asked questions
Glossary
Total: 178 pages
About the author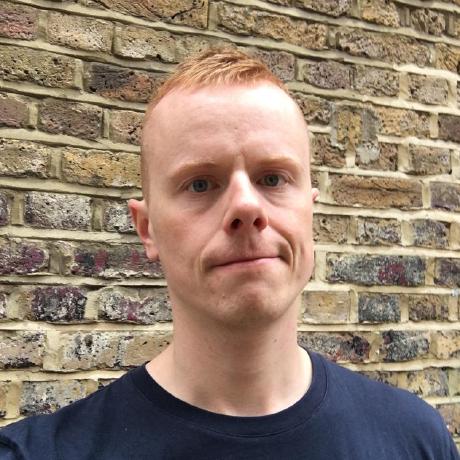 Hi I'm Tom Donohue. I'm an integration engineer and I've been developing with Apache Camel and blogging about it for several years.
Along the way, I've learned what works in Camel, and what doesn't. I've also understood first-hand the things that people struggle with when they're learning Camel.
I've distilled all of this knowledge, and crammed it into this book.
This book will kickstart your Camel learning. So you can skip the dead-ends and just get started quickly.
What readers are saying
The book is instantly usable and free of unnecessary technical jargon.
An excellent starting point in learning the core concepts of Camel.

Processors, routes and exchanges were all vague concepts before I started this book. Now they're something I use daily while I code. I recommend it to every developer.
Available in 3 editions:
choose the edition to suit you
Complete Edition:
Book + Videos + Examples + Cheatsheets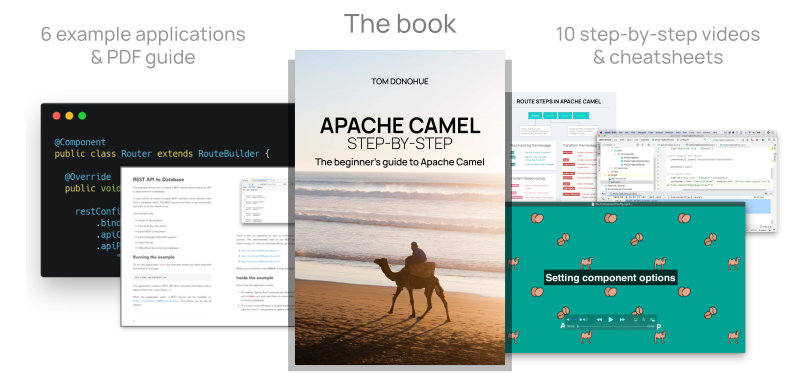 Buy now for $98
Plus VAT, if you are in the EU
Everything you need to start developing applications with Apache Camel.
The videos alone will save you a ton of time in getting started. You'll get them, along with the full-length ebook, example applications with accompanying guide, plus printable cheatsheets for your reference.
Includes:
Apache Camel Step-by-Step book (PDF and EPUB)
45 minutes of video lessons, showing creating an application from scratch
6 example applications + PDF guide
2 printable cheatsheets
The Book + Example Applications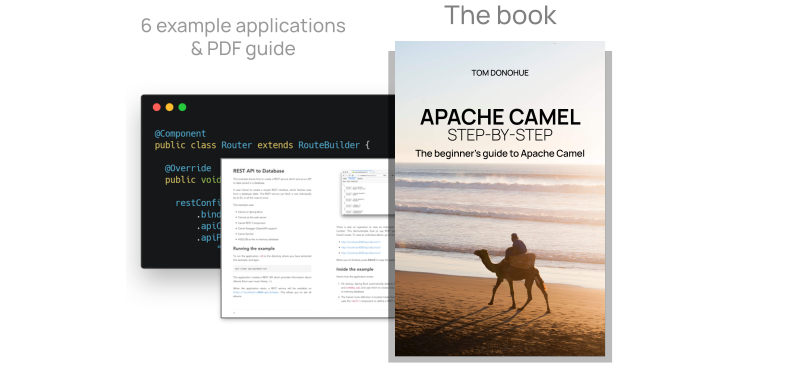 Buy now for $78
Plus VAT, if you are in the EU
Includes 6 example, working applications for you to learn from, with a complete PDF guide to the code. Doesn't contain the video lessons or cheatsheets, but still includes the things you need to get started.
Includes:
Apache Camel Step-by-Step book (PDF)
6 example applications + PDF guide
The Book

Buy now for $48
Plus VAT, if you are in the EU
Get started with just the book. If you're watching your budget then I recommend getting the book. It's still packed with tons of useful info for beginners, and will save you lots of time.
Includes:
Apache Camel Step-by-Step book (PDF)
Questions and Answers
Is my Camel version supported?

Apache Camel Step-by-Step is suitable for learning Apache Camel 3.4 or greater.

Is the book right for me?

Apache Camel Step-by-Step covers how to develop applications with Apache Camel. If you've got no programming experience, then this book probably isn't for you. If you're not sure whether the book is right for you, please contact me. If it's not right for you at your current stage, I will tell you honestly.

What if I'm not satisfied?

I think that you're going to love the book. But, if for some reason you're not satisfied, you can ask for a refund at any time. If you don't find the book useful, then I don't want you to have to pay for it. It's all win for you.

How did you write and publish the book?

I've written up my full story of how I wrote the book here in case you're interested in how I did it, or if you want to get started writing your own! And if you just want to ask me questions about it, you can always contact me.

What if I have more questions?

You can email me via this contact form, or hit me up on Twitter (my DMs are open) and I'll be happy to answer your questions.

Can I share my copy?

The packages listed on this page are for individual use only. If you would like to share the product with your team, please contact me.